Search Engine Marketing (SEM) & PPC Management
Google
Ads
Gain greater and consistent visibility in Google search results pages and across the Google Ad network using Google Ads. We leverage the power of Google Ads to scale leads and customer acquisition for our clients. We know how to build Google Ad campaigns that maximize relevant traffic and conversions at the lowest possible cost. Get more out of your budget.
Bing
Ads
Bing Ads can expand your online presence across the Bing Ads network. Many people use Bing as their primary search engine, especially heavy users of the Microsoft ecosystem. Google isn't the only game in town. We make sure our clients have a presence on Bing with campaigns that mirror their success with Google Ads to drive even more traffic to your website.
Yahoo
Search Ads
Yahoo Search Ads is another platform expand your brand presence. We leverage the power of Yahoo search Ads to target audiences using Yahoo properties online. Yahoo Ads help to diversify and expand your online presence keeps while keeping your offerings in front of potential customers cost-effectively while driving lead volume.

What is
PPC (Pay-Per-Click) Management
Pay per click marketing is a method used by companies to place ads online, usually through Google. You pay a fee to the advertising platform each time your ad is clicked. The cost per click varies based on the keywords targeted and many other factors. You are only charged a fee when someone clicks your ads. You can set your budget based on your advertising goals.
PPC management is a service offered by marketing companies. Rather than do it yourself, you outsource PPC management and allow PPC experts to manage your PPC ad creation, strategy and budget. PPC experts will help you get the best return on your PPC campaign budget. As part of the service, we will perform keyword research to identify the best keywords to target, select the best ad channels, monitor campaigns, assess your competitors' ads, and optimize your campaigns for maximum efficiency.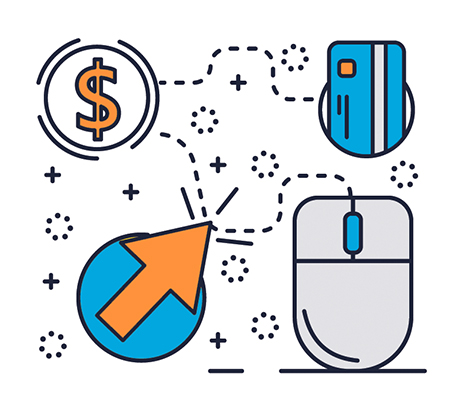 What is
Search Engine Marketing (SEM)?
Search engine marketing (SEM), often referred to as search marketing, is an overarching internet marketing strategy that is focused on website promotion with the end goal to increase overall search engine visibility. Search engine marketing often uses both paid and organic SEO techniques such as keyword research, website and ad optimization, and other techniques to earn and buy website traffic. Popular SEM strategies include pay per click marketing, Google Ads, Bing Ads and other sources of online ads.
What Are The Advantages of Paid Search Engine Marketing?
Guaranteed placement: You'll instantly get prominent placement in SERPs and other high traffic locations online.
Increase brand awareness and visibility: Improve brand visibility and brand equity of product.
Targeted audience: Advertise to an audience that's already interested in you.
More leads: Increase in targeted leads and conversions.
Ads targeting: Customize your ads to reach specific users based on languages, locations, and other demographic information.
More traffic: Get instant traffic while you are improving your organic search rankings through SEO.
Increase sales: Greater visibility, brand awareness, and targeted ads that generate better leads will increase sales.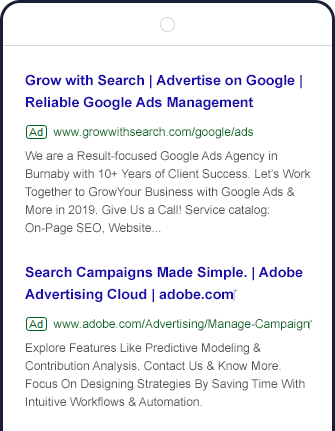 Who would benefit from
PPC (Pay-Per-Click) Marketing?
When managed effectively, pay per click adverting can help your business boost traffic, reach the right audience, and convert more leads into sales. All businesses can benefit from PPC. But, not all businesses have the time or expert knowledge to manage PPC campaigns. Here are some specific instances of companies that can benefit from PPC management:
You don't have an in-house expert/team: Most companies don't have an in house PPC expert, nor can they afford to have a full-time position dedicated to it. It's more cost-effective to hire a PPC consultant. PPC management will provide you with more flexibility and free up time and resources for your current team.
Poor organic search presence: One of the biggest benefits of PPC advertising is it can help you get an instant presence in search results. If you have poor organic search presence or are just starting out, PPC management services can help you get more visibility and supplement your organic presence as it grows over time.
No access to the right PPC tools and resources: Investing in PPC management services provides you with access to the best PPC tools and resources. PPC professionals use a variety of tools to analyze and manage PPC campaigns. Get access to the best tool through PPC management.
Start-up/ new website: As a start-up or a company with a new website, it can be challenging to get the visibility you need. PPC management professionals can help you get instant visibility online so you can focus on managing your new business or new website. PPC management can be aligned with other marketing campaigns for maximum effectiveness.
Maximize budget: Without expert knowledge of the PPC best practices, you can quickly blow through your PPC budget with minimal return. PPC management services can help you get the most out of your budget.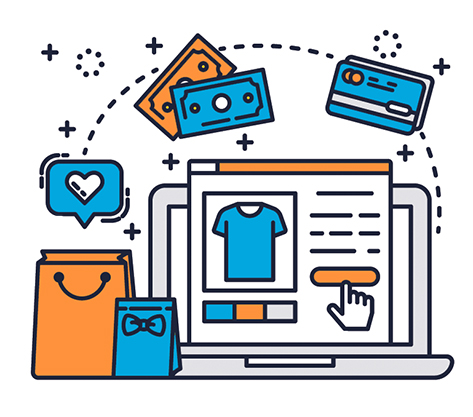 Common Mistakes On
SEM & PPC Management
Companies can waste a lot of time, resources and money when they make PPC management mistakes. Here is some of the most common pay per click mistakes that can be avoided when investing in PPC manager services with an expert or agency:
DIY: Knowing a little bit about PPC and creating an ad does not mean you are a PPC expert. It takes years of experience, certification, and expert knowledge to create a high converting PPC strategy. Avoid spending money with little return, hire a PPC management professional.
Not having a strategy: All PPC campaigns need to be strategically planned out. It's important to understand what competitors are doing, research the best keywords, ad groupings, and choosing the right demographic modifiers to reach the right audience.
Poor ad copy: Targeting the right keywords is vital. But, you have to write top quality ad copy to get the right audience to click on your ads. Make your copy compelling and engaging. It's also very important to vary up the copy based on the keyword and audience segment you are targeting with the ads.
Bad landing pages: PPC is about more than creating great ads. Where you lead those who click in your ads is vital for conversions. If you don't meet a user's expectations with your landing page you'll lose them right away. This will cost you the price of that click. Make sure your landing page is highly relevant to the keyword used for your ad.
Not tracking and monitoring enough: If you don't check out ads regularly, track conversions and understand what ads are working and which ones are not, you will not achieve desired results. You could be wasting money on low-quality leads that will not convert.
Using Google only: Yes, Google is the most popular ad platform online, but you have other options as well. Bing, Yahoo, Facebook, and other online ad platforms can help you create a more far-reaching ad campaign. Understand where your audience exists online and capitalize on those platforms.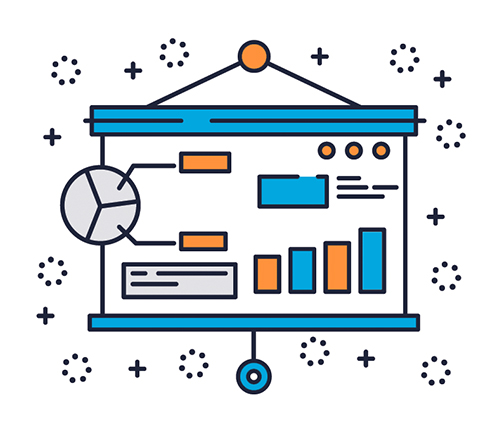 Need Help With Search Engine Marketing or PPC Management?
We Are Here To Help!
Frequently Asked Questions About
Search Engine Marketing & PPC Management
1
How Does Search Engine Marketing Work?
There is not a specific process to follow for search engine marketing. You can gain traffic through paid ads or organic search traffic. Many companies use a combination of both to yield the best results. All search engine marketing strategies should be customized and in alignment with your business goals to be successful.
2
What Are The Benefits of PPC Management Services?
Pay per click ads can provide you with a great ROI and help you drive high-quality traffic to your website if done right. PPC management services ensure you get the most out of your PPC budget, ensures you use the most effective strategies, target the right keywords and reach the largest audience possible.
3
Is PPC The Same As SEM?
Search engine marketing (SEM) is often referred to in reference to paid search. Pay per click (PPC) advertising is a common format used to buy ads and is part of a larger SEM strategy. The goal of PPC is the create visibility online to support larger search marketing goals.
4
Should I Do PPC and SEO Together?
PPC and SEO can be done collectively or separate. Since there are many shared strategies and goals between the two SEM strategies, using them in combination with each other will help you maximize your search visibility and increase more targeted traffic to your website.

Need More Assistance? Questions?
If you require more information or if you have any questions related to our services on Search Engine Marketing (SEM) and Pay-per-Click (PPC) Management, you can call us at 1-877-959-8977, or submit a request by using the button above. A customer service representative will contact you during regular business hours